The winners of international beauty pageants have visited Indonesia as their official visit to run the main platform of respective pageants; although nowadays, they are also invited to crown the new Indonesian representatives to international pageants. We have some documentation of early Miss World visiting Indonesia. Lets take a look..
1985 – Miss World '84, Carolina Herrera Irrazabal from Venezuela
In the official website of Beauty With A Purpose, she writes: "In Indonesia I received a most friendly welcome. There are many fascinating stories to tell, but I wish to convey to you one with an extra special meaning for me. It was during a visit to Bali. I made am impromptu call on a small home for 30 blind children.
They very quickly gave me a traditional Bali musical concert. One of the children asked me if I minded her touching my face, all the children were smiling as if they could see quietly clearly. It was yet another lesson taught to me. The blind girl touched my face, but we both knew she had also touched my heart. As I said, it was a dream of mine to visit the Far East, and it was truly a dream come true."
1992 – Miss World '91, Ninibeth Leal from Venezuela
It was an interesting story for the 1991 queens. When Lupita Jones came to Indonesia, she was welcomed by Mrs. Martha Tilaar (founder of Sari Ayu cosmetics); while when Ninibeth Leal visited Indonesia, she was welcomed by Mrs. Mooryati Soedibyo (founder of Mustika Ratu cosmetics).
However, nowadays both of them become the sponsors of two biggest national beauty pageant in the country: Mrs. Mooryati Soedibyo as the founder of Mustika Ratu cosmetics, founded "Puteri Indonesia" pageant in 1992. The pageant sends the winner to Miss Universe pageant, while the runners-up to Miss International and Miss Supranational pageants. While Mrs. Martha Tilaar as the founder of Sari Ayu cosmetics, has been the main sponsor of "Miss Indonesia" pageant that sends the winner to Miss World.
200

5

– Miss World '04, Maria Julia Mantilla Garcia from Peru
Miss World 2004, Maria Julia Mantilla Garcia from Peru visited Indonesia on 2005 along with actor Jackie Chan to help the victims of tsunami in Aceh, Indonesia. Accompanied her is first-ever crown Miss Indonesia 2005, Imelda Fransisca and Miss World CEO, Julia Morley, which they met President of Indonesia, Susi

lo Bambang Yudhoyono.
Although on this event, Miss Indonesia accompanied Miss World, but this visit wasn't organized by Miss Indonesia Organization but initiative from Miss World themselves cooperated with

Phoenix Satellithe Television, which also brought Hong Kong Actor Eric Tsang and Miss Chinese Cosmos 20

04.
2009 – Miss World '08, Ksenia Sukhinova from Russia
This is the first time that Miss Indonesia Organization officially invites Miss World winner to attend the coronation night of Miss Indonesia. Ksenia Sukhinova, Miss World 2008 from Russia attend this event alone, not accompanied by the CEO of Miss World, Julia Morley
Ksenia attended the coronation night of Miss Indonesia 2009 in Assembly Hall, Jakarta Convention Center (JCC) Senayan complex. She crowned Miss Indonesia 2009, Karenina Sunny Halim from Jakarta SCR.
2010 – Miss World '09, Kaiane Aldorino from Gibraltar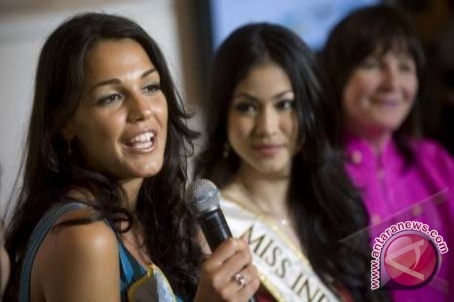 2011 – Miss World '10, Alexandria Mills from USA